It is common to experience dark circles under the eyelids in people these days. Dark circles accompanied by baggy eyes can make your skin look shabby and older. On top of it, many times, it is hard to get rid of dark circles permanently until you stick to a skincare regimen for a time. Experts worldwide thus advise using the best cream for dark circles removal. 
But are they worthwhile? We have prepared this beginner's guide to help you know more about dark circles creams and why you should use them in the first place. We would also top the discussion by recommending the best brand and product that stood out in our testing and research.
Why do we get dark circles?
Nobody likes those dark and black under eyes. While fatigue is the most logical factor, other components also play a role in the occurrence of dark circles and baggy eyes, such as:
Sleeping without removing makeup may also cause bags under the eyes as the makeup leftover makes eyes dull. 

Not getting enough sleep also makes you look droopy-eyed. 

Exposure to the sun harms the skin and results in pigmented skin under the eyes. 

Skin reactions and allergies also take a toll on your skin and result in nourishment loss, leaving your eyes with dark circles. 

Alcohol intake can also result in dehydration in your skin and make your eyelids look dull, saggy, and droopy. 

Stress and a sedentary lifestyle can also be one major reason for dark circles. 

Rarely bags under the eyes can result due to genetics. It may be seen as an early childhood trait and may worsen with age.

Lack of adequate nutrition may also cause the skin to swell up and lose its natural color

Certain medical conditions also result in dark circles beneath the eyes.
What exactly does eye cream do?An effective formulation in the best cream for dark circles can help brighten the tone and make skin look young and youthful. The idea is to hydrate the skin as much as possible to combat dark circles. 
Eye creams are non-negotiable in a skincare regimen. However, some people overlook the importance of eye creams in skin care procedures. It is often swapped with a regular moisturizer or a night cream, but a dedicated cream is required to deal with the delicate under-eye area. 
The skin beneath the eyes is generally thin, wears off quickly, and goes through many micromovements. As a result of these factors, you may seem to have experienced crow's feet and fine lines. This is also why you could experience signs of age in your eyes first than anywhere else. It is common for the skin to become dehydrated over time. 
Apparently, the skin under the eyes needs an extra dose of love and care in the form of moisturization. On the other hand, oily and dry face creams serve a different purpose- they can moisturize the facial skin on the cheeks and forehead and help it be more radiant. 
Did you know? Under eye creams and face creams complement each other nicely, but they cannot substitute each other. So, you need a specific cream or potion to relax the blood vessels that cause fluid retention and result in dark circles. 
Ingredients to look for in the best cream for dark circles
There is no magic that you will wake up with no dark circles one day, no matter how good your cream is. However, a good eye cream can gradually ward off wrinkles and fine lines if enriched with powerful ingredients. 
For example, an eye cream with retinol boosts cell turnover. As we age, our skin cells are not replaced quickly enough. Using a retinol based cream speeds up this process. Retinol is a derivative of vitamin A that experts rely on for slowing down the aging process. 
Vitamin C and peptides are known for their anti-aging benefits. Both these components help strengthen the skin and brighten skin tone. Antioxidants can also resist the spread of free radicals and fight annoying signs of aging. Besides, they may also help retain lost moisture to the skin. Using ingredients such as hyaluronic acid helps make your skin younger, fresher, and radiant. 
While bringing this list of ingredients, it is also important to use any skincare product cautiously. Skincare is very personal, and whatever suits others may not fit your skincare needs well. We recommend that you always do a patch test for any signs of redness, swelling, irritation, and inflammation. 
Our favorite best cream for dark circles
The world is flooded with too many options for skincare products but finding the best cream for dark circles for your skincare needs is the key. We have curated our favorite picks from the brand we trust, Mamaearth. 
Let's go and hop onto their dry face cream range: 
Bye Bye Dark Circles Eye Cream with Cucumber and Peptides for Dark Circles

No more hiding your face behind concealers. This cucumber and peptides-infused cream relieves dark circles and helps to depuff the eye bags. It also helps with melanin deposit that leads to pigmentation beneath the eyes. In addition, it rejuvenates your skin with active ingredients. 
Bye Bye Blemishes Face Cream for Reducing Pigmentation and Blemishes with Mulberry Extract and Vitamin C

This special formulation also prevents melanin formation and gives you a bright skin complexion. It is one of the best cream for dark circles that helps with pigmentation and blemishes by dissolving melanin. Melanin deposits primarily cause dark spots patches and give you uneven skin tone. 
Vitamin C Under Eye Cream with Gotu Kola & Niacinamide for Brightening Under Eyes
Gotu Kola and Niacinamide are experts' recommendations for addressing marks under the eyes. Best cream for dark circles has these ingredients to battle signs of stress on the skin. It depuffs the area around the eyes and gives you a radiant youth look. It deeply hydrates the under-eye skin, reverses signs of sun damage, and boosts collagen
Bye Bye Wrinkles Face Cream with Green Tea & Collagen for Wrinkles & Fine Lines

Made with ingredients like Green Tea, this under-eye cream enhances skin's elasticity and keeps it firm and supple. Green tea hydrates dry skin while collagen averts wrinkles and fine lines. It is also believed to be the best cream for dark circles, giving you that youthful look.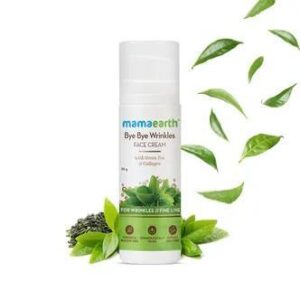 Summing up
Having dark circles is a cosmetic concern that asks for an immediate response. Though it is not feasible to expect magical results in a day or two, using the best cream for dark circles for a few months can help provide better results. Following an active lifestyle, taking proper sleep every night, and opting for a stress-free outlook would also benefit you.