With the 2023 debut of the animated series based on Berkeley Breathed's Bloom County, the upcoming seasonal tradition of viewing A Charlie Brown Christmas, and the November 2022 launch of Netflix's Addams Family adaptation Wednesday, comic strip properties continue to be a significant part of pop culture. Daily comic strips were an integral part of life before the internet, and loyal fans followed their favorite cartoon characters week to week.
On occasion, creators would 'guest star' other well-known comic strip characters in their own strips (with permissions), and there was the rather infamous April Fools' Day 1997 'Great Comics Switcheroonie,' where fellow cartoonists swapped drawing duties without the knowledge of their editors just to give funny page aficionados a nice Easter egg with their morning coffee.
Garfield And Peanuts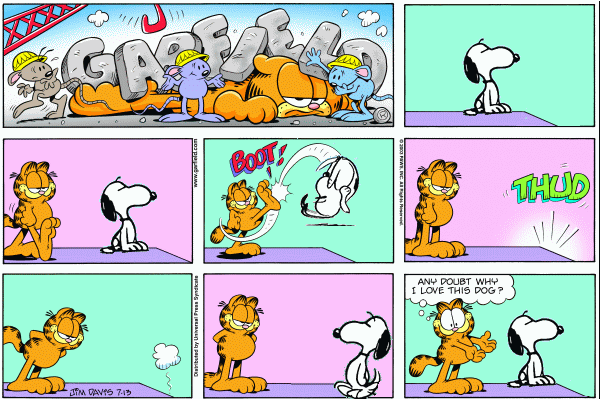 Arguably the two most widely syndicated and globally popular comic strips of all time as well as the medium's top purveyors of licensed merchandise, Garfield's creator Jim Davis homaged the work of Charles Schulz's Peanuts several times throughout his storied career. In fact, as this list indicates, Schulz tended to be the go-to ask when fellow cartoonists wanted to honor 'Sparky', whom they believed was the master craftsman of their trade.
Related: 10 Funniest The Far Side Comics, According To Reddit
Sometimes they'd simply get permission to use one of his characters in their own work, much as depicted in this Sunday multi-panel offering. On occasion, both creators would collaborate together and work on a team project. Though the titular lasagna-loving cat in question seems a bit overbearing in this outing.
Blondie's 75th Anniversary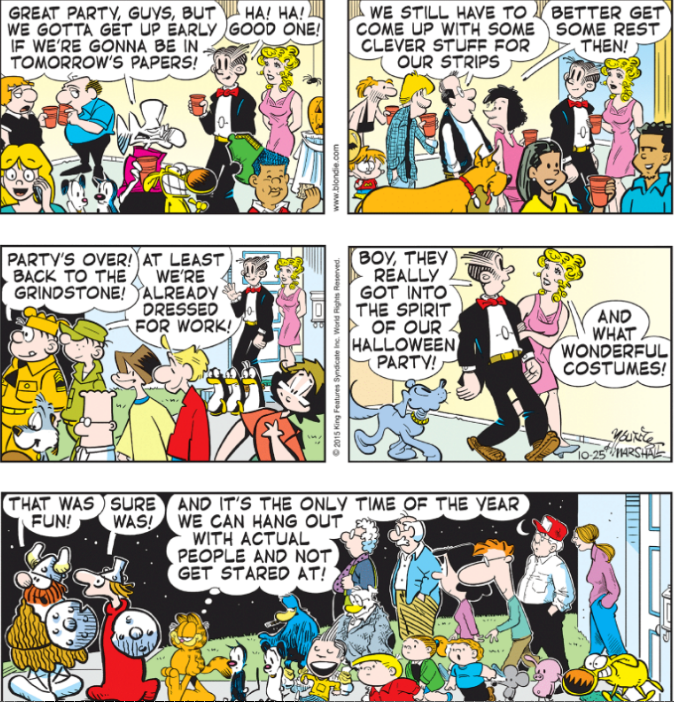 Blondie has been consistently published in newspapers since 1930 and is a consummate American staple. An extended film series and a popular radio program in the 1940s were based on Blondie's comic characters. Creator Chic Young likely had no idea about the longevity of his creation, as it would perpetuate over the entire 20th century, appearing in over 2,000 newspapers in 47 countries all the way up to its 75th anniversary.
For the occasion, Chic's son Dean, who the creative rights passed to after Chic's death, sought out the okays from several fellow cartooning entities to include in a multi-panel nod to the entire medium. The strip includes characters from B.C., Baby Blues, Hagar the Horrible, Mutts, Family Circus, Beetle Bailey, Garfield, and several more.
Flash Gordon And Sally Forth

Adventure serial strips were far more popular than comedy-oriented offerings back in the mid-twentieth century and provided a brief yet scintillating hard print escape for both adult and younger readers alike. Comic strips like Steve Canyon, Brenda Starr, The Phantom, and Terry and the Pirates were daily newspaper smaller derivatives of the actual comic books found on street side newsstands across the United States.
Related: 10 Best Jack Kirby-Created Comic Characters
The gold standard in terms of legacy usually is attributed to Flash Gordon, the sci-fi series which eventually was adapted into a rather infamous B-movie and innumerable parodies. Sally Forth creator Greg Howard, who named his eponymous strip after the phrase 'to sally forth' on an adventure, incorporated his Flash Gordon admiration in this strip.
Fox Trot And Guests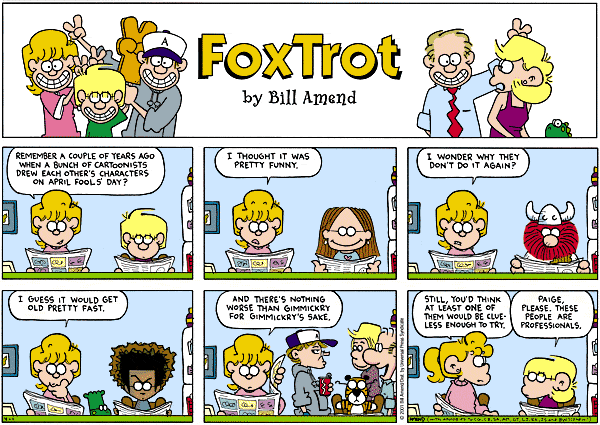 Fox Trot creator Bill Amend was somewhat notorious for including frequent meta-commentary within the panels of his strip concerning other properties outside of his Fox family comic characters. Cartoonists tend to be a brotherhood of sorts, and there's no better evidence of that than Amend's long-term 'feud' with fellow creator Stephen Pastis of Pearls Before Swine fame, wherein each cartoonist lampooned the other for the better part of several years in occasional jabs through their characters in their respective strips.
In the strip rendered here, Amend shows his clear love of his fellow artists by having his signature character Jason Fox take on the appearances of several cartoon characters, including Cathy, Hagar the Horrible, Huey Freeman from The Boondocks, and Michael Doonesbury.
The Family Circus And Dustin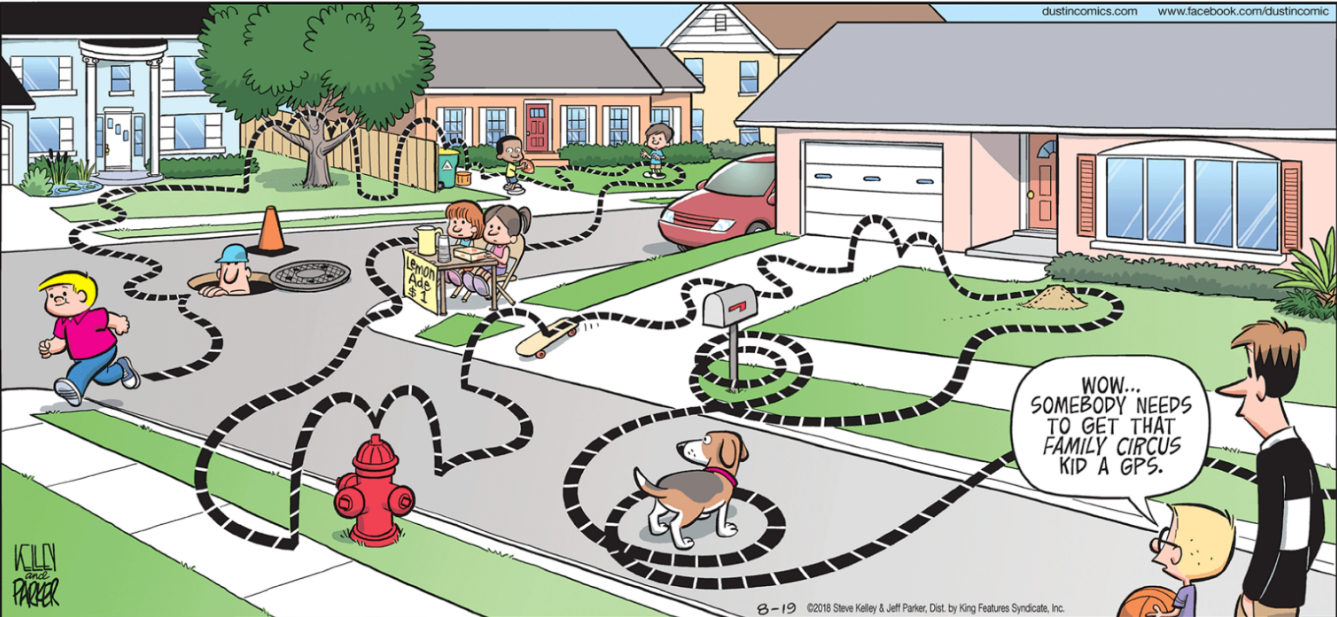 Bill Keane's The Family Circus is the most widely syndicated single-panel comic strip across the world, appearing in over 1,500 newspapers to this day. Almost always utilizing a basic single captioned panel with a rounded border, the slice of suburban Americana has been a constant part of the funny pages since 1960, based on creator Keane's own family, marriage, and Roman Catholic faith.
Its most signature renditions include 7-year-old Billy's 'guest cartoonist' panels, invisible childhood excuse gremlins 'Not Me,' 'Ida Know,' and 'Nobody,' and perhaps its most well-known format honored here by Dustin creators Steve Kelley and Jeff Parker, in which titular character Billy wanders his neighborhood or his home via dotted line paths.
Mad Magazine And Peanuts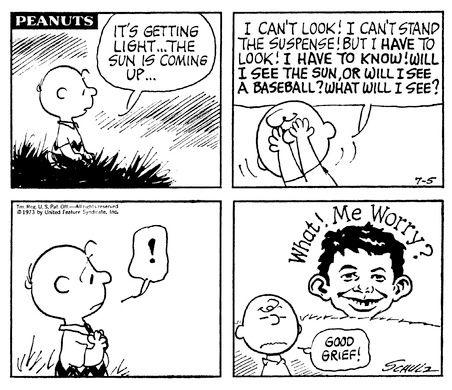 It would be difficult to find a Baby Boomer or Generation X comic book or comic strip writer or artist who wasn't profoundly influenced by their childhood and teen explorations of Mad magazine literature. The gold standard to which all satire and parody periodicals owed allegiance, Mad magazine was first launched as a comic book of sardonic commentaries on American society and television and movie parodies.
Characters from Schulz's Peanuts were often cited in various Mad satires over the years, and in one of Schulz's funniest parodies, Charlie Brown suffers a sports sort of breakdown after seeing a giant baseball instead of the sun. He eventually goes out to check again and sees Mad's eponymous mascot Alfred E. Neuman instead.
Bloom County And Calvin And Hobbes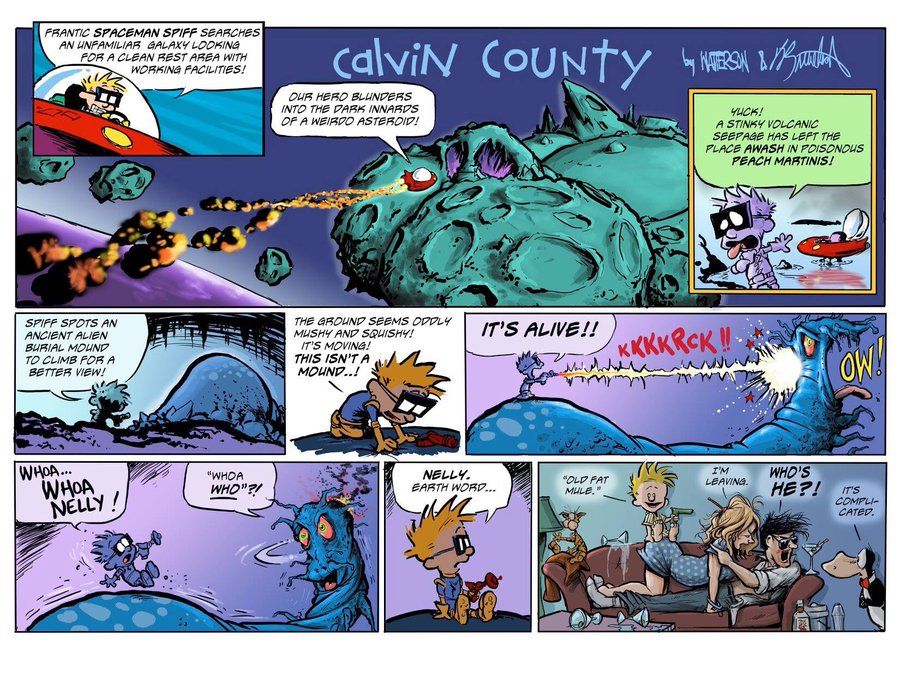 Bloom County and Pulitzer Prize-winning cartoonist Berkeley Breathed is as much a rabid fan of Bill Watterson's Calvin and Hobbes as anyone else and has shown as such with various appearances over the years of either the precocious Calvin or his stuffed tiger Hobbes engaging with the regulars of Milo Bloom's boarding house.
Related: 10 Funniest Calvin and Hobbes Comics, According To Reddit
Watterson and Breathed collaborated together to create a mashup of their respective strips, such as this Spaceman Spiff variant in which Calvin interrupts the private time of Bloom County lothario Steve Dallas. It's a box ticker for fans of both comic strips, as each work ran the finely-edged gauntlet of examining human nature and existential strife through the eyes of mature-beyond-their-years children and anthropomorphic animals.
Marvel And Peanuts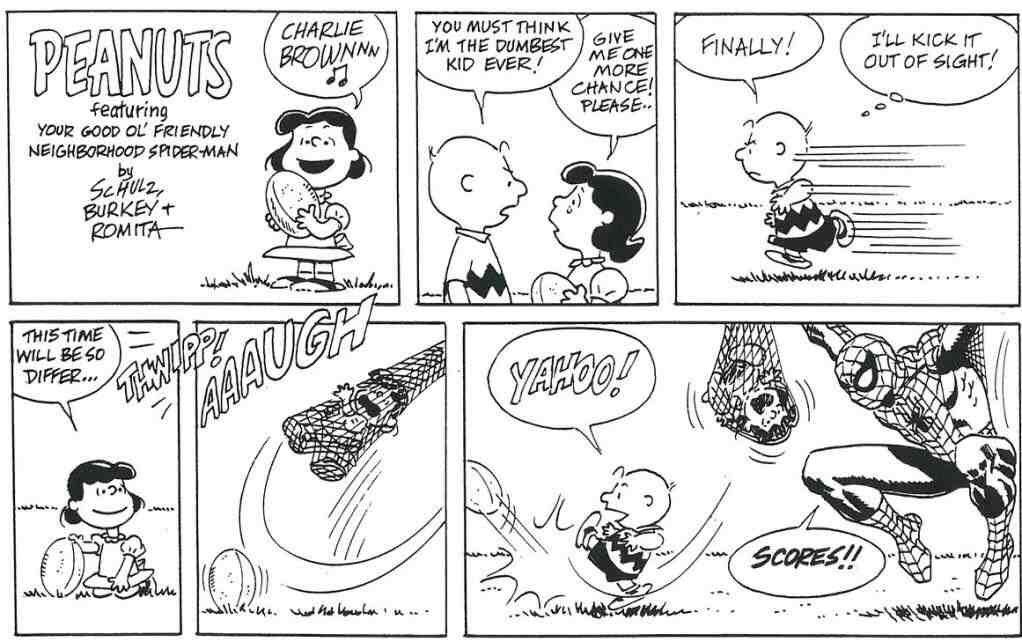 Yes, it's true, The Amazing Spider-Man did indeed have his own daily newspaper strip for quite some time from 1977 to 2019. Legendary Marvel artist John Romita Sr. received a fan request to draw a strip in which Spider-Man helps Charlie Brown finally kick the football, which Lucy routinely pulls away, resulting in the classic longstanding Charlie Brown wipe-out.
Crafted in a clearly Romita-penned fashion, the strip was given permissions rights by Schulz himself, as evidenced by his signature at the top of the panel, though this is the only known occasion when Charlie Brown actually gets to kick the ball. It's a hilarious crossover, particularly in the way Peter Parker uses his webs to whisk Lucy away from the ball, much as he might a villainous henchman.