[ad_1]

Mission: Impossible – Dead Reckoning Part One star Vanessa Kirby opens up about Tom Cruise's fearless motorcycle stunt. Dead Reckoning Part One is the seventh film in the Mission: Impossible franchise, with Cruise returning as super spy Ethan Hunt. The sequel is again directed by Christopher McQuarrie, who previously helmed Mission: Impossible – Rogue Nation and Mission: Impossible – Fallout. The franchise has become known for delivering the biggest practical stunts cinema has to offer, with the upcoming installment teasing the same.
Kirby, who returns to the franchise as The White Widow, spoke with Variety about Cruise's fearless nature after witnessing his dedication to filming Mission: Impossible – Dead Reckoning Part One's teased motorcycle stunt. Footage of the stunt has seen Cruise riding a motorcycle off a large cliff with the safety of a parachute on his back. According to Kirby, she witnessed Cruise perform the motorcycle jump several times in a single day, with the actor showing no fear, as he was dedicated to getting the shot. Check out Kirby's comments on Cruise's motorcycle stunt below:
"He did it many times in one day. He did it consecutively … and repeatedly so he could capture all the different angles and sides of it … He was just so calm. He had no fear. He just found it exhilarating. That kind of belief in cinema and what one could achieve and his passion for it is so inspiring. He kind of believes he can do the impossible and then he does… I love being a part of the franchise. I'm really excited to come back."
Mission: Impossible 7 Continues Cruise's Penchant For Flashy Practical Stunts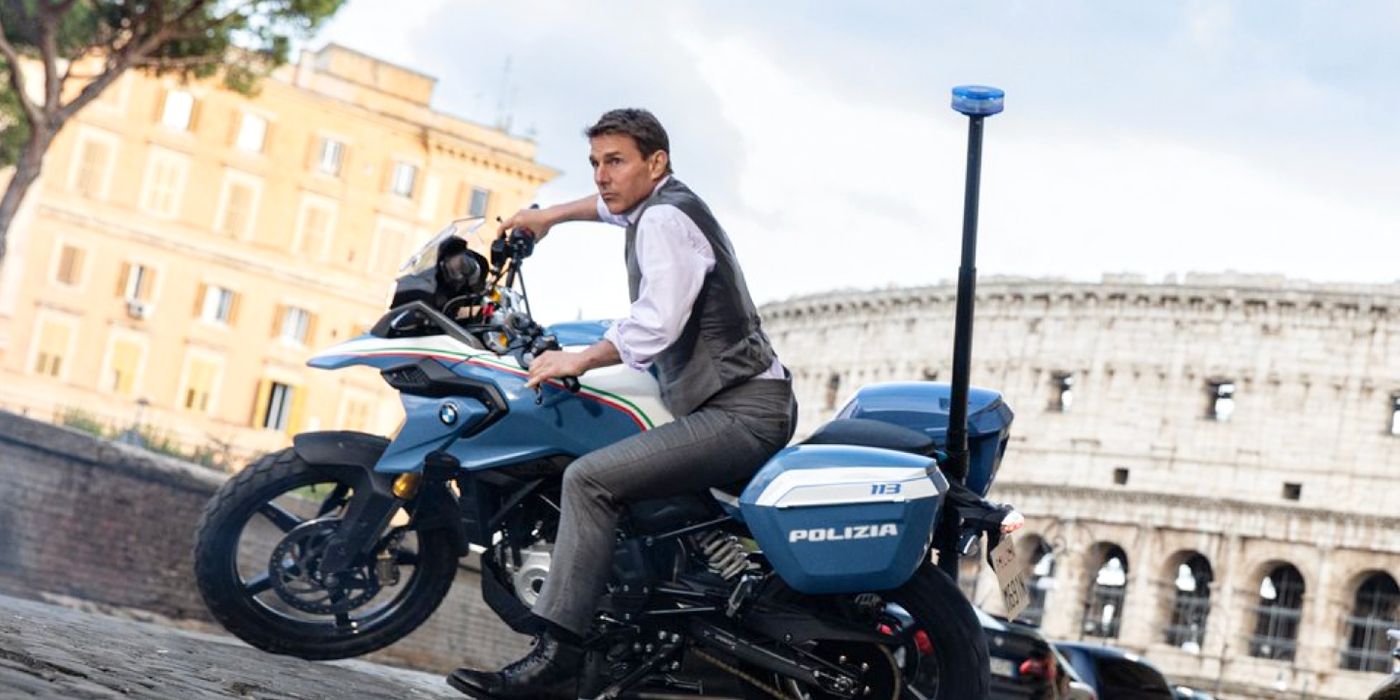 Cruise has become known for the stunts he personally performs in his own movies, putting even seasoned stunt performers to shame. In addition, Cruise has showcased his love of practical stunt work, with last year's Top Gun: Maverick even putting actors in the cockpits of fighter jets to capture actual aerial footage. However, the Mission: Impossible movies have given Cruise his largest playground yet.
Cruise has incorporated risky stunts into every Mission: Impossible film, with his star power over the years allowing him to practically take on acrobatics that most others would accomplish via VFX. The franchise has seen him driving motorcycles, flying helicopters, holding his breath for six minutes underwater, hanging off the side of a plane as it takes off, and even performing a HALO (High Altitude Low Opening) jump. Still, Mission: Impossible – Dead Reckoning Part One already looks to be upping the ante, as evidenced by its trailer.
Mission: Impossible – Dead Reckoning Part One has already teased several big stunts in the trailer, behind-the-scenes footage, and even the movie's poster. Cruise's motorcycle jump looks to be the most significant action set piece, but CinemaCon footage teased a 20-minute car chase, and there will be a fight on top of a train before it crashes. Cruise shows no signs of stopping, with Mission: Impossible – Dead Reckoning Part Two due out next year; the actor is also planning to shoot the first-ever movie in outer space. While Cruise has plenty more thrills coming, Mission: Impossible – Dead Reckoning Part One is set to hit theaters in July.
Source: Variety
[ad_2]

Source link