Michael B. Jordan accidentally channels Creed and beats up a new cast member in a Saturday Night Live promo ahead of his hosting debut.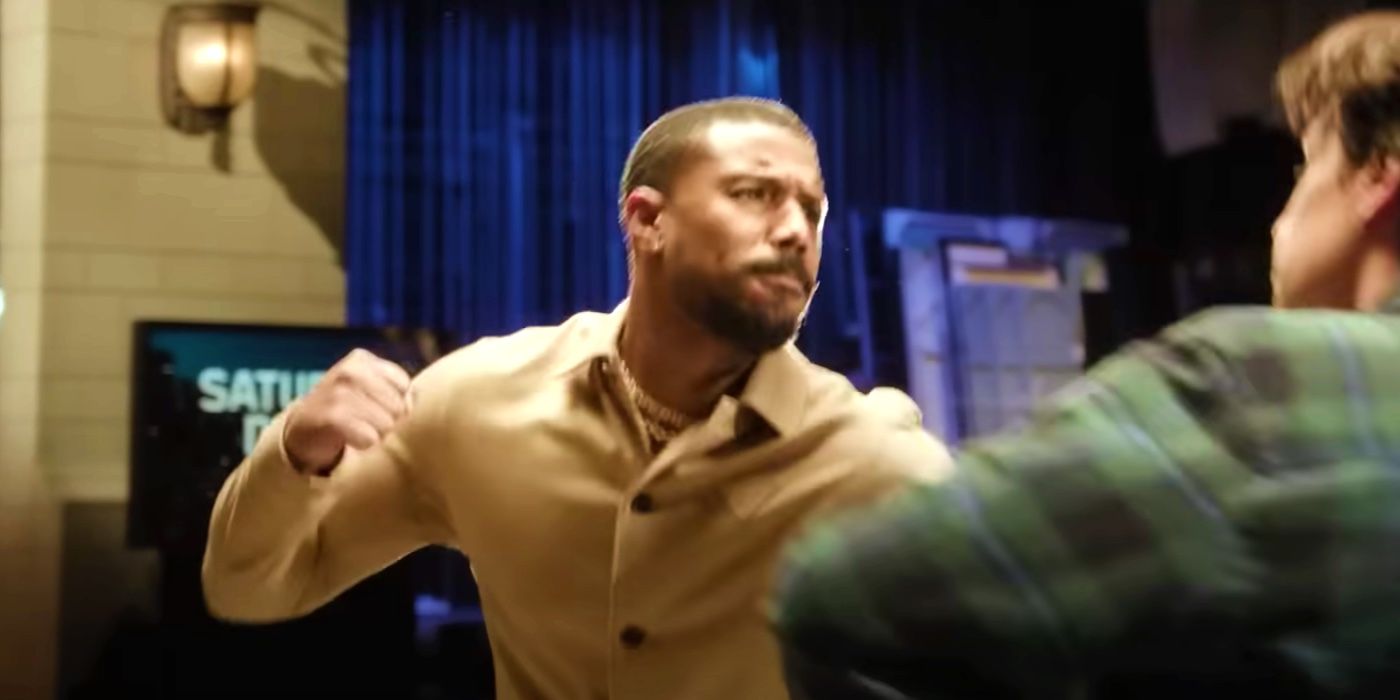 Ahead of his hosting debut, Creed 3's Michael B. Jordan accidentally channels his boxing persona in a Saturday Night Live promo. Jordan is best known for his portrayal of the villain Erik Killmonger in Black Panther and Black Panther: Wakanda Forever, as well as for playing the boxer Adonis Creed in Creed and Creed II. With his third portrayal of Adonis in Creed III on the way, which marks his directorial debut, Jordan is also set to make his Saturday Night Live hosting debut on January 28.
Now, ahead of his appearance this weekend, a Saturday Night Live promo shows Jordan accidentally channeling his boxing persona.
The short video begins with Jordan standing in awe of the sketch show's legendary stage in Studio 8H when Saturday Night Live cast member Michael Longfellow, who recently joined the show this season, sneaks up behind the Creed actor. This triggers Jordan's muscle memory and causes him to punch the new cast member in the face, who appropriately exclaims, "Jesus B. Christ!" Watch the video above.
Related: What The Creed Series Needs To Surpass Rocky
Everything We Know About Creed 3
Creed III is the ninth overall installment in the Rocky franchise and the third film in the Creed spinoff series that began in 2015. Set years after the events of Creed II, the threequel finds Adonis semi-retired and focusing on his family life when his childhood friend and former boxing prodigy, Damian Anderson (played by Jonathan Majors), resurfaces after serving a long prison sentence. Damian is eager to get back into the ring, but despite Donnie's initial support and mentorship, it soon becomes clear that Dame holds a grudge against him, putting the two on a collision course inside the ring.
The full Creed III cast is once again led by Jordan alongside Tessa Thompson, Wood Harris, Florian Munteanu, Phylicia Rashad, and Tony Bellew, who are also reprising their roles from previous films. Orange Is the New Black's Selenis Leyva and real-life boxer Canelo Álvarez have been cast in undisclosed roles. Sadly, Creed III is the first installment in the long-running film series not to star Sylvester Stallone as Rocky Balboa, though the franchise creator still serves as a producer.
The first Creed III trailer was released last year, hyping up the film's central bout between the titular boxer and Majors' villain. A second Creed III trailer is expected before the threequel releases in theaters on March 3, with the upcoming Super Bowl LVII broadcast being a prime time to debut it. In the meantime, Jordan can be seen hosting Saturday Night Live on January 28 featuring musical guest Lil Baby.
More: Creed 3's Director Change Is Why The Sequel Can Be Great
Source: Saturday Night Live