[ad_1]

Marvel announces New Mutants: Lethal Legion, a new adventure for Escapade and other heroes returning to the roots of the X-Men spinoff team.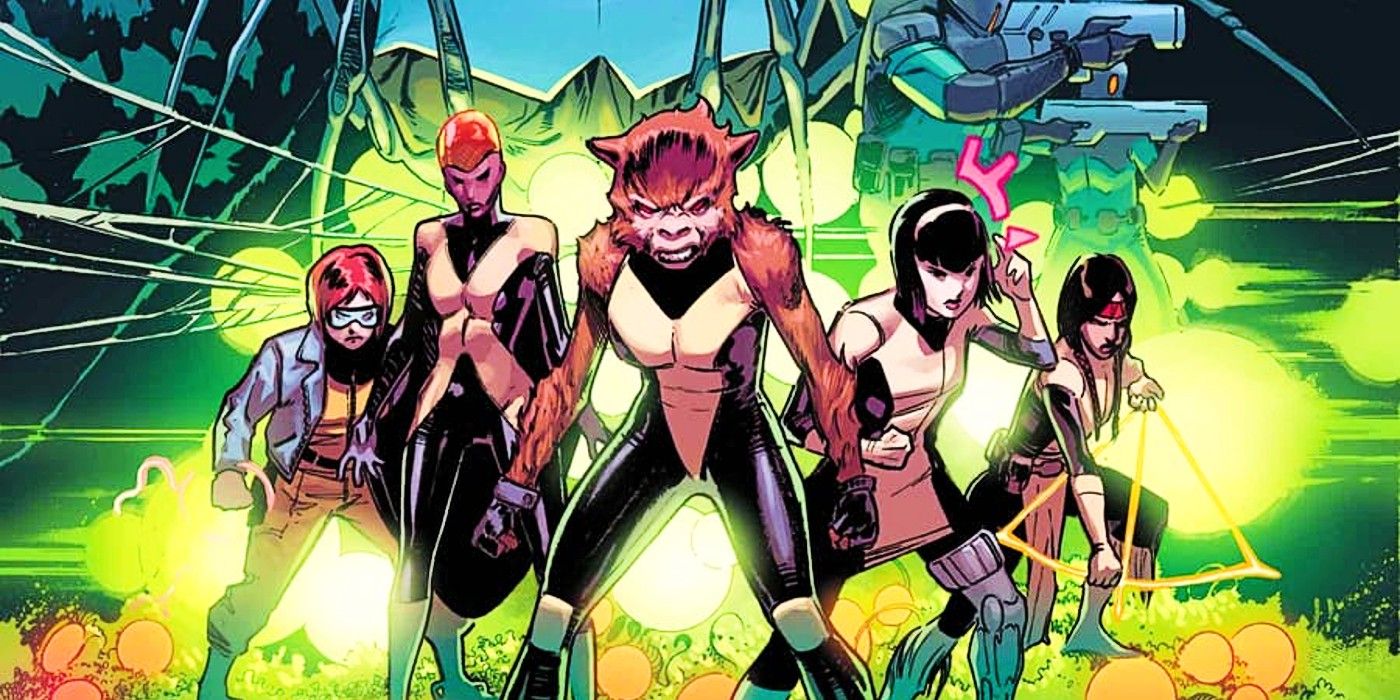 The X-Men's beloved New Mutants are heading into an exciting new adventure, as the youngest group of Krakoan mutants teams up with their mentors in the upcoming miniseries New Mutants: Lethal Legion. The New Mutants are one of Marvel's most famous mutant-led team outside the standard X-Men, and originally consisted of Xavier's second class of students, the mutants Dani Moonstar, Wolfsbane, Karma, Sunspot, and Cannonball.
The New Mutants have had some of the most consistently great stories in the Krakoan Era – particularly Vita Ayala and Rod Reis' arcs about the Shadow King and Magik – and Lethal Legion is going to be a spin-off of the current New Mutants arc, both written by Charlie Jane Anders. In an announcement by Marvel Entertainment New Mutants: Lethal Legion will apparently be a 5-issue miniseries, "…which will pit Escapade and the New Mutants against an all-new team of Super Villains called the Lethal Legion."
Related: X-Men's Most Tragic Mutant Is Finally Getting Her Revenge
The current arc of New Mutants, which kicked off with issue #31, focuses on the iconic trans mutant Escapade – introduced in a story written by Anders in Marvel's Voices: Pride 2022 – as she joins the Krakoan nation and partners with the New Mutants, so she can learn how to better control her powers. As the team of mutants joins what is meant to be a peaceful rally they are kidnapped by John Sublime and the U-Men, something particularly traumatic for teammate Cerebella who once had her brain cut out of her head and kept in a jar for years by the villainous Sublime. Will this arc has not yet ended, the issues are incredibly enjoyable and given even more screen time to the fan-favorite Escapade as well as her best friend Morgan – basically a queer version of James Bond's "Q" – as well as their… flying turtle Hibbert. New Mutants: Lethal Legion will be written by Escapade creator and current New Mutants writer Charlie Jane Anders with art by up-and-coming artist Enid Balám (Wild Cards, Black Panther Legends, Hawkeye: Kate Bishop) as well as an amazing cover of the first issue by Javi Fernández.
Lethal Legion Revisits Classic 'New Mutants' Themes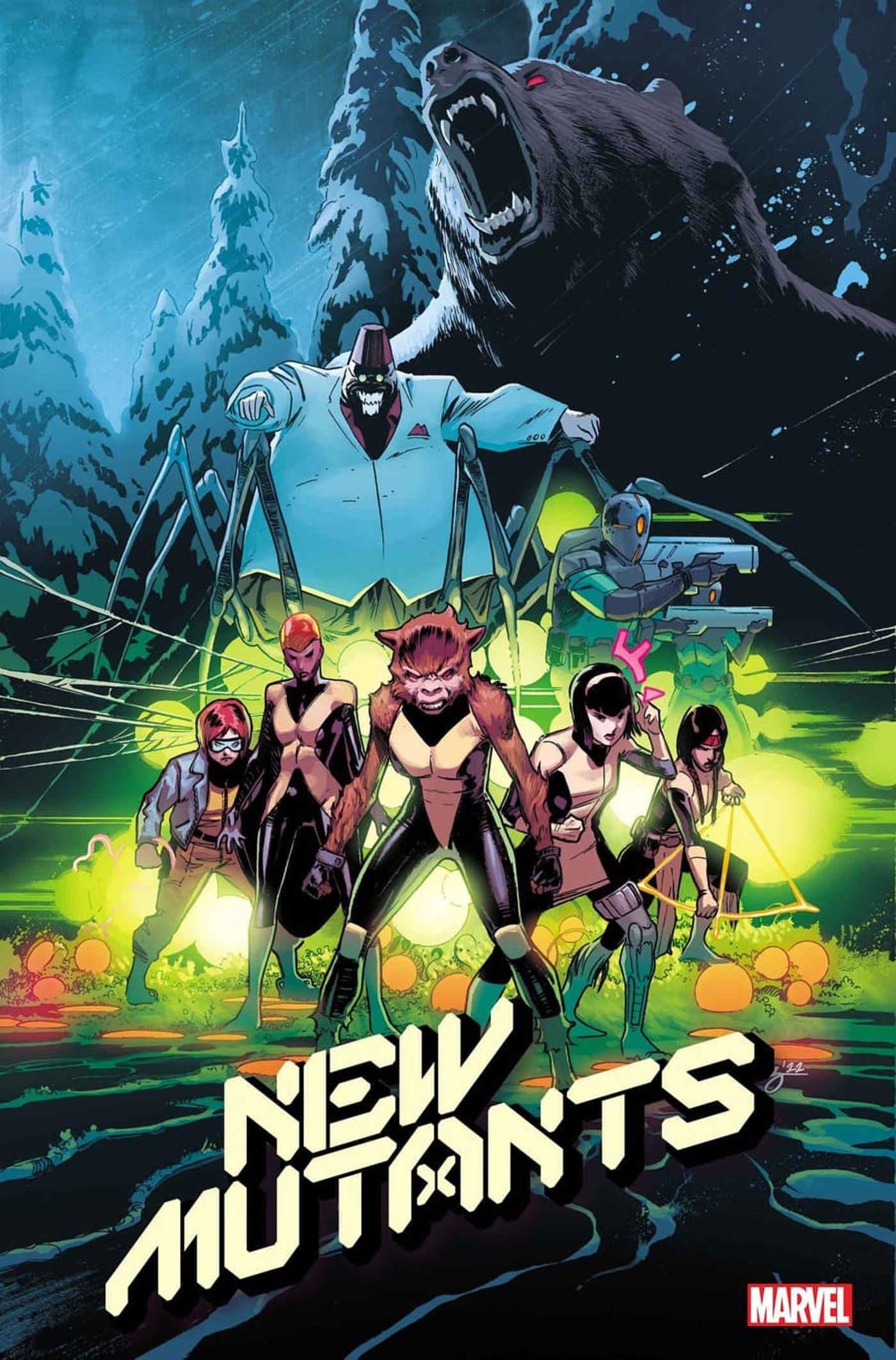 Fernández's gorgeous cover depicts mutants Wolfsbane, Karma, Dani Moonstar, Cerebella, and Escapade – potentially the new core New Mutants team – ready for action as three of their most terrifying enemies of past loom in the background, Amahl Farouk as the horrific Shadow King, Dani Moonstar's monstrous Demon Bear, and Cerebella's deranged U-Men. Speaking on her transition from writing the regular New Mutants ongoing to the Lethal Legion miniseries, writer Charlie Jane Anders said, "After the dark, scary storyline in 'The Sublime Saga,' I was eager to change gears and do something funnier and lighter, and it's been a total blast getting to play around in the Marvel Universe." The fact that Anders was asked by Marvel to curate a New Mutants miniseries starring her own character Escapade is a huge testament to how quickly Marvel fans have fallen in love with the brave and powerful Sheila Sexton, as well as how popular her run on New Mutants has been. Marvel continuing to center diverse queer voices in their comics – outside their LGBTQ+ Pride programming – is always encouraging to see, so having a queer writer and a queer character headlining a miniseries is a blessing for those craving more diverse voices.
Anders has said that Lethal Legion will continue to explore classic New Mutants themes of dealing with trauma, coming of age, and working through mistakes, all while continuing to integrate Escapade, Morgan, and Hibbert into the world of the X-Men and the broader Marvel Universe.
More: X-Men's Trans Mutant Escapade Is Marvel's Best New Character
New Mutants: Lethal Legion #1 from Marvel Comics debuts on March 8th, 2023.
Source: Marvel Entertainment
[ad_2]

Source link