Warning: SPOILERS lie ahead for Scream 6!
Despite featuring prominently in the marketing for the film, Scream 6's terrifying Ghostface subway scene was nearly cut in development. The latest chapter of the slasher franchise, which has already become a critical and commercial hit, marked the third time it ventured outside of Woodsboro, this time bringing Ghostface to New York City for his latest series of killings. This led to a series of far more intense cat-and-mouse encounters with the killer, including one in a crowded subway full of Halloween-celebrating people, including multiple Ghostface-mask wearers.
In honor of the film's release, CBR caught up with directing and producing group Radio Silence to break down Scream 6. When asked about the troubles in filming the terrifying Ghostface subway scene, co-director Matt Bettinelli-Olpin and executive producer Chad Villella revealed that it was nearly cut from the film entirely during its development due to the sheer logistics of putting it together. See what the two shared below:
Bettinelli-Olpin: The challenges of getting that on screen started in pre-production when we learned that we had no idea how we were going to do this in terms of getting a subway car. In the back of our heads, we thought, "We'll get a subway and retrofit it and make it look right." Then, we found out that was off the table. We tried to get a couple in, but they were too heavy and were tipping. It would have cost a billion dollars. We had so many conversations about it. Thirty percent of pre-production was like, "How are we doing this subway sequence?"Villella: Weren't there multiple moments where we were like, "Maybe we should just cut it?" Then, we were like, "Absolutely, under no f—-ng circumstances."Bettinelli-Olpin: This was a testament to how great everyone on the crew was. Everybody worked together to figure it out, "How can we get this? How can we build it? How can we create something that feels like it is moving?" This is a handshake between every department, including costumes. "Oh, we have to make 200 different costumes? They can't all look professional?" It's a long way of saying it was a handshake between every department, and they all exceeded our expectations. I remember when we got on set, the reaction was."This is just the subway. I feel like we are in New York," which is exactly what you want. It didn't feel like a set. It felt like you were there.
Related: Scream VI's 8 Biggest Unanswered Questions
Scream 6's Subway Scene Was Vital To The Film's Success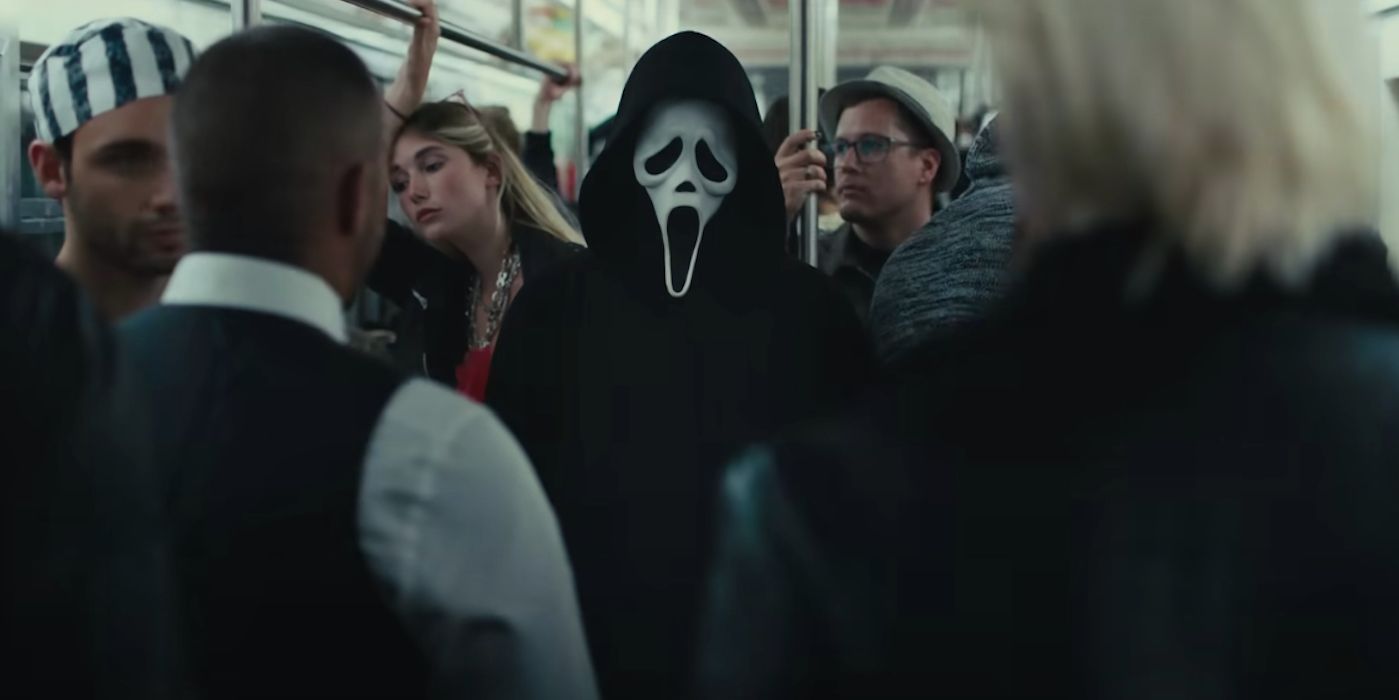 Though prior installments in the franchise may have moved away from Woodsboro, Scream 6 going to New York created the largest scale yet for the horror movie series. Unlike the Hollywood-set Scream 3, the latest sequel took proper advantage of its populated setting to help build the tension for the protagonists as they became hunted by Ghostface, while also establishing the sheer threat he posed as he mowed through bystanders trying to help.
The Scream 6 subway scene was ultimately one of the most vital in evoking this sense of tension for audiences with the film's new setting. The trailers for the film may have given away who Ghostface would ultimately target on the locomotive, with Jasmin Savoy Brown's Mindy being on the receiving end of the new killer's blade yet again. However, the moment was still made all the more powerful with her difficulty in actually getting the attention of those nearby for help, or even determining which Ghostface was the killer.
Luckily for those who have fallen in love with the character, Mindy would go on to survive the events of Scream 6 alongside fellow legacy survivors Sam, Tara, her brother Chad, Gale Weathers and Kirby Reed. While nothing has been announced yet by Paramount, the new movie's franchise-best opening marks a promising sign for Scream 7 moving foward, which many hope includes Neve Campbell's return. With New York and Hollywood already soaked in the blood of Ghostface's victims, it will be interesting to see where the slasher franchise can go next.
More: Why Mindy Is Completely Right About Scream VI's Twist EndingSource: CBR