With the holiday season upon us, the Jersey Shore roomies are sharing their favorite holiday traditions. Learn how they like to spend the season.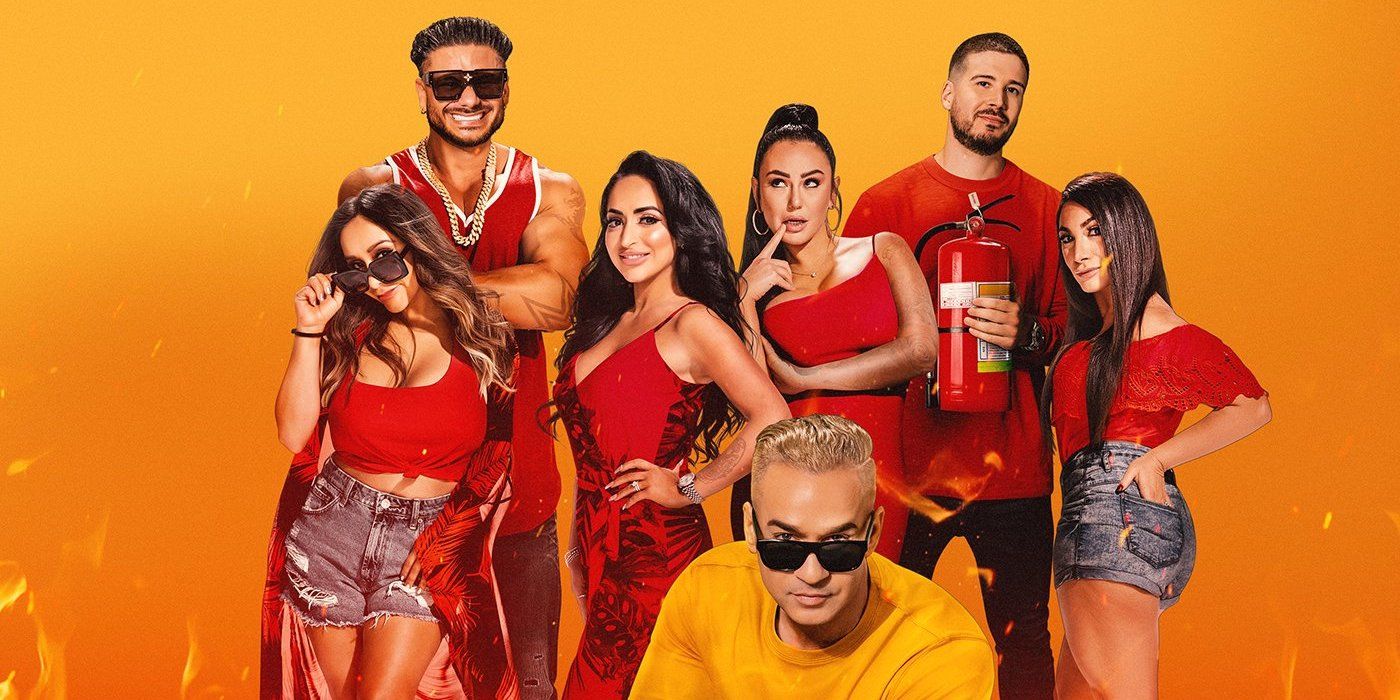 With the holiday season upon us, the Jersey Shore: Family Vacation roomies are sharing their favorite things about the holiday season. The group of original roommates have spent over 10 holiday seasons together since their rise to fame in 2009. Now, many of the stars have started new holiday traditions as their families grow with kids of their own.
As Nicole "Snooki" Polizzi, Jenni "JWoww" Farley, Deena Cortese and Mike "The Situation" Sorrentino prepare to bring the holiday magic to their homes for their kids this year, they shared their favorite holiday traditions and memories with MTV along with their single roomie Vinny Guadagnino. Jenni took the holiday magic to the next level as she bought both of her kids Vespas for Christmas because they are obsessed with the Disney movie Luca. Ironically enough, Vinny portrayed Luca during Disney+ Night while recently competing on Dancing With The Stars. Jenni's kids must have loved that. As for a favorite gift she's ever received, Jenni recalled her daughter gifting her a $3 fake diamond ring that she treasures to this day. Deena's favorite gift was a necklace her dad had given her before he passed away. Nicole, on the other hand, couldn't name a favorite gift, explaining she's "not materialistic." She did joke that she would love to get a Gucci bag as a gift though. Could this be a hint to her husband?
Related: DWTS: Why Vinny Guadagnino Deserved To Be Eliminated (& Why He Didn't)
Mike's Favorite Holiday Memory Was His Son's Gender Reveal
Looking back on past holidays, the roomies recalled their favorite holiday memory of all time. With no hesitation, Mike knew his favorite holiday memory was when he and his wife Lauren Sorrentino revealed the gender of their first child with the help of their Christmas tree. Now, Mike and Lauren are expecting a baby girl. Vinny chimed in to attempt at singing viewers his favorite Christmas song, "Last Christmas." Nicole prefers Elvis' "Blue Christmas" while Jenni loves "Rudolph the Red Nose Reindeer." And of course, it would not be a Jersey Shore holiday without all the "foods." The cast listed their favorite holiday foods, including ham, lasagna, rice crispy treats, pies, and the Italian tradition of The Seven Fishes as well as the Italian dessert strufolli.
Despite almost constantly filming for the show, the roommates do get to enjoy the holiday season with their families. In fact, the cast recently wrapped up filming for Jersey Shore: Family Vacation season 6 just in time for the holidays. The roomies took numerous short trips together for the upcoming season. In addition to this, they also filmed at home as well. Despite all the drama that unfolded among the roomies during season 5, the group of best friends is assumably back to getting along once again.
Although nearly all the roommates have confirmed that filming for the new season of Jersey Shore: Family Vacation has come to an end, a premiere date has yet to be announced. Within recent weeks the roommates shared photos from their last interview sessions for the upcoming season. It is assumed that the new season will air sometime in the early new year.
More: What The Jersey Shore: Family Vacation Cast Has Been Up To Since Season 5
Source: MTV, Vinny Guadagnino/Instagram, Mike "The Situation" Sorrentino/ Instagram