[ad_1]

Lennie James explains why he's so sad for Fear the Walking Dead ending after eight seasons. A spinoff of AMC's zombie series The Walking Dead, Fear the Walking Dead first premiered in August 2015. James, who plays Morgan Jones, first appeared in The Walking Dead season 1 and featured heavily in season 6 until his departure. James then moved to Fear the Walking Dead, acting as a main character from season 4 onwards.
In an interview with SFX Magazine (via GamesRadar+), James reveals why he's so sad for Morgan's journey concluding as Fear the Walking Dead enters its final season. James says that when he appeared in The Walking Dead season 1 alongside Adrian Kali Turner (Morgan's son Duane), he never could have imagined how integral Morgan would become to the franchise as a whole. While James admits that he's happy with the work he's done and is excited to move on, he'll forever miss his Fear the Walking Dead castmates and feel that something is missing from his daily routine. Read James' full comment below:
"If you would have said to me at that point when [Morgan's son] Duane hits Rick [in The Walking Dead's first episode] that this is what's going to happen, I certainly wouldn't have believed you. To be at this point now with Morgan, I couldn't have hoped for it. I couldn't have wished for it. I couldn't have imagined that it would have happened. I'm happy with the job done. I'm excited about moving on, but I will miss him. I will miss the people that I've been working with immensely. I will miss the routine and I will miss the day to day. And either in November or April of each year, there will be a moment where I'll think, 'There's something I'm supposed to be doing…'"
Will Morgan Appear In Future TWD Spinoffs?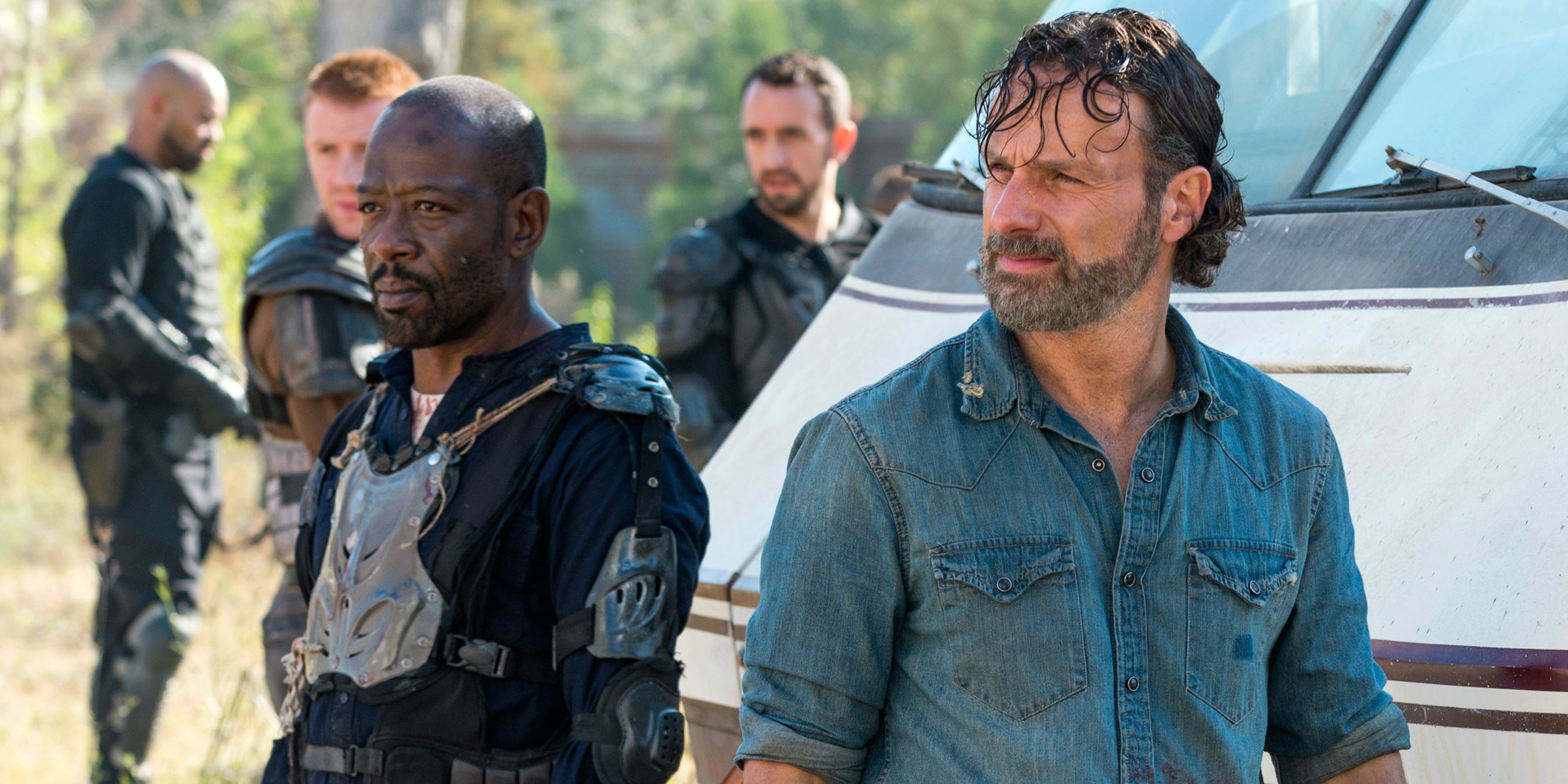 Though The Walking Dead ended after season 11 in November 2022, and Fear the Walking Dead's final episode is expected to air on June 18, The Walking Dead franchise is far from dead. There are three Walking Dead spinoff series in production – the most recent being the Negan and Maggie-led Dead City set to premiere in June. Following that is Daryl Dixon, which will follow the titular archer as he traverses a post-apocalyptic France, with the series expected to air in late 2023. Finally, the untitled Rick and Michonne spinoff will follow the two beloved characters in their time since they left The Walking Dead in seasons 9 and 10, respectively, with plans for a premiere in 2024.
Since Rick's dramatic season 9 departure, there are questions if he will reunite with other The Walking Dead characters, including Morgan Jones. A trailer for Fear the Walking Dead season 8 saw Morgan returning to King County, Georgia, where The Walking Dead season 1 began, leaving speculations if this is a hint that Morgan could appear in Rick and Michonne's spinoff series. To date, James has not confirmed or denied being a part of any of the upcoming spinoffs.
With so much unknown about how the upcoming Walking Dead spinoffs will connect to the series that preceded them, there is plenty of room for plot threads to be woven together. It's unlikely that each spinoff will be self-contained, especially given that the shows follow pre-existing and much-loved The Walking Dead characters. Whether Morgan will appear in future shows, his final appearances in Fear the Walking Dead will be emotional after being a vital part of the long-running franchise.
Source: SFX Magazine (via GamesRadar+)
[ad_2]

Source link